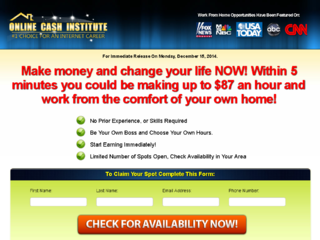 The Amanda Jones Online Cash Institute program is a new version of several other programs I've warned about. The program is currently found at OnlineProsperityProgram.com, although that may have changed by the time you read this.
Previous Versions Of Online Cash Institute
The previous versions of Online Cash Institute are:
Many of the testimonials found on the Online Cash Institute work from home program's website are the same fake testimonials I've warned about for years. You can see my warning about these testimonials at my post called Fakest Of The Fake here.
These specific fake testimonials have used by some of the most notorious work at home scams in recent years, including the Profit Masters Academy scam.
Amanda Jones and Other Fake Names
Amanda Jones is just one of hundreds of names commonly used to promote link-posting scams like Online Cash Institute. I keep a list of many more fake names here that you may want to take a look at.
If You're Struggling To Make Money Online - Click Here And FINALLY Get Answers To All Of Your Questions About Making Money Online