Review Summary:
The Jessica Bradley Web Fortune Master is a new version of many previous scams, including Home Profit Masters, Online Profit Masters, and Income Masters Institute, and many others. Read the full post here for detailed information about why you should avoid WebFortuneMaster.com at all costs.
Note: All details of the Jessica Bradley Web Fortune Master sales page, terms and conditions, privacy policy, etc. as outlined in this post have preserved in multiple ways, including video recording. I've been warning people about various sites endorsed by Angela Bussio for over a year now. All of the sites like these can lead you into massive financial problems. As usual with these sites, the photo used for Jessica Bradley is a stock photo. Click here to verify.
Web Fortune Master's Hidden Charges
Here's what you'll see on the order page of Web Fortune Master:
I looked through the whole order page and that is the ONLY charge that's shown on the order page. However, after hunting through the terms of the site, I found additional charges for Web Fortune Master mentioned.
Here's what I found that might surprise you
:
In case you missed it, the specific billing terms from the WebFortuneMaster.com site is as follows:
The price of registration is a one time fee of $97 dollars. The registration fee will grant you 30 days of access to the education area and materials. After the initial 30 days of access and every 30 days thereafter, a membership fee of $8.78 will be charged to the user's credit card that was used for the initial transaction for continued access.
Web Fortune Master's Bogus Income Projection Table
The type of income projection table being used by Jessica Bradley's work at home system has a long history of being used by questionable opportunities and outright scams. Here's short video to help you see what I mean:
6/17/2013 Update:
Since signing up for the free Web Master Fortune email list on 6/11/2013, I have received 47 email messages between 6/11/2013 and 6/16/2013. That's over SEVEN email messages per day! See the image below:

Here is a list of sites like this latest Jessica Bradley work at home sites that I've warned about going back as far as February 5, 2012!
February 5, 2102 Post: Online Profit Masters Review Of Red Flags
Summary of red flags from Online Profit Masters that ALSO apply to Web Fortune Master:
Warning about "free one on  one consultations" and how they lead to expensive coaching costing thousands of dollars that almost always is worthless and that you don't need.
Order Page claims to be using the 3rd party payment processor Plimus, but almost certainly isn't.
Same headlines used on on Online Profit Masters and Web Fortune Master are used by hundreds of questionable sites that put people into massive financial danger.
Bogus income Projection Table
Testimonials That Potentially Violate The Federal Trade Commission's No Safe Harbor Guidelines
Summary of red flags from the Home Profit Masters Scam Analysis that also apply to Web Fortune Master:
Since Home Profit Masters was another site endorsed by Angela Bussio, you should take the following red flags into consideration:
Home Profit Masters was using testimonials from an old FTC complaint for ITS testimonials!
The site was being promoted by fake news sites (as is Web Fortune Master).
Phillip Gannuscia was behind Home Profit Masters which Angela Bussio endorsed. Phillip Gannuscia is a full-time scammer behind some of todays biggest business opportunity scams – whether or not he has anything to do with Web Fortune Master is unknown at this time, but the fact that Angela Bussio endorsed sites connected to him is bad news for you.
Here's an image from my Income Masters Institute warning about a government action against another company run by one of the people behind Income Masters Institute: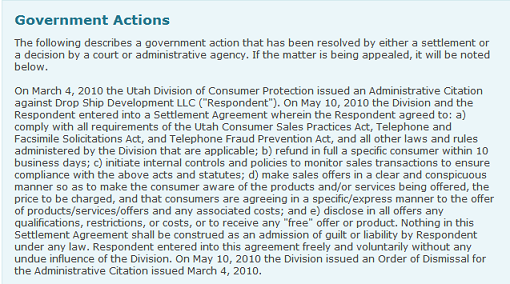 Once again, this company is run by the same guy that was one of the people behind many of the sites endorsed by Angela Bussio – who also endorses Web Profit Fortune.
In the comments section of Income Masters Institute you'll also see that I bust a shill from Income Masters Institute. :-)
August 13, 2012 Post: Profit Masters Academy Scam Analysis
Summary of red flags from Profit Masters Academy that ALSO apply to Web Fortune Master:
Images used for testimonials are stock photos
Uses Angela Bussio as its spokesperson. I'm sure you understand now why that's a HUGE red flag.
Claims you can make money just "placing links".
If You're Struggling to Make Money Online Click Here to Get Answers to All of Your Questions About Making Money Online.