Note: All details of the Jane Simmons Income Masters Institute sales page, terms and conditions, privacy policy, etc. as outlined in this post have preserved in multiple ways, including video recording.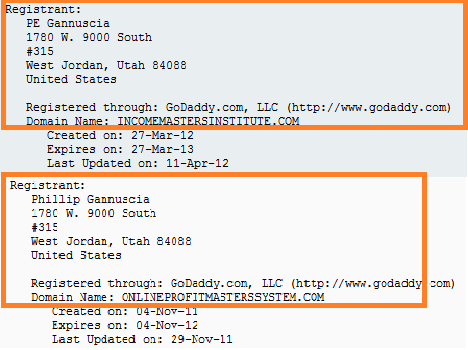 Note: Income Masters Institute is the new version of the recent Online Profit Masters scam. One of the people behind Online Profit Masters. One of the people behind both Income Masters Institute and Profit Masters appears to be Phillip Gannuscia.
Here's what you need to know about Phillip Gannuscia….Phillip Gannuscia appears to be the same individual behind the company discussed in the Government Actions section here (he's listed as the primary contact.
His company Drop Ship Development LLC entered into a  Settlement Agreement with the Utah Division Of Consumer Protection wherein the Respondent agreed to (among other things)…
"a) comply with all requirements of the Utah Consumer Sales Practices Act, Telephone and Facsimile Solicitations Act, and Telephone Fraud Prevention Act, and all other laws and rules administered by the Division that are applicable". I've posted the full text below. Keep that in mind as you read the BIGGEST WARNING right beneath the "Government Actions" image.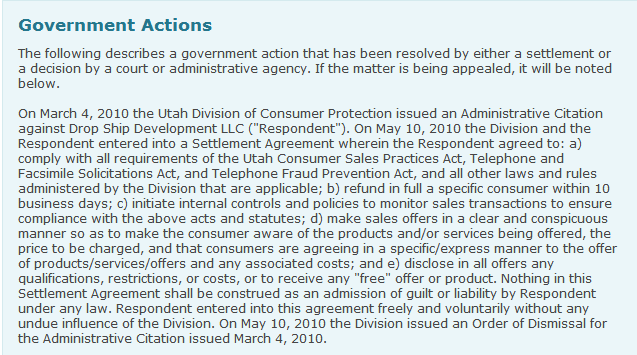 DANGER AHEAD…Income Masters Institute Offers A "Free" Consultation
Believe it or not, this is the MOST dangerous part of the Income Masters Institute scam. Here's how they'll try to get as much money as possible from you…
When you make the "get started" call, you'll get a front line phone person who will have someone call you back.
That person will start asking you questions about your financial status and amount of credit available – and try to figure out how much money they can get from you (they'll tell you it's for "investing in your business"…it's not…it's for lining their pockets with YOUR money.
If they think you have enough money and credit, they'll tell you that you are a "candidate" for special "one on one training" with "real" experts.
You'll be told that an "expert" will call you back.
You'll be called by somebody who will try to sell you a "training package" – typically costing $5,000 or more.  Often you'll be "asked" if you'd be willing to eventually give a testimonial as one of their "success stories" (it's all part of their scam-script).
You'll be told that it will be hard to succeed without the expensive training. It's all b.s. to try to separate you from you from thousands of dollars.
Summary Of Other Income Masters Institute Scam Flags
Scam Flag #1) "As Advertised On" claim
The top of the IncomeMastersIncome.com page brags that it's been "Advertised On" the following networks or websites:
MSNBC
Fox News
CNN
MSNBC
USAToday
"As Advertised On" has nothing to do with the quality of a product.
Scam Flag #2) Order Page Claims To Be From Plimus
The site is using a FAKE Plimus order page. Plimus is a 3rd party payment process. The problem is that Plimus BANNED Online Marketing/Internet Marketing products from their market place – so there is NO way that's a legitimate order page.
That also means that the security seals are meaningless, since they are for Plimus and not for Income Masters Institute
Scam Flag #3) Headline #1 Used By Questionable Sites
The headline of the first page of the IncomeMastersInstitute.com states:
"In The Next 90 Seconds – Gain Access To A Work-At-Home Job That Can Earn You Up To $87 An Hour"
That EXACT headline has been used by hundreds of work at home scams online.
Scam Flag #4) Headline #2 Used By Questionable Sites
The headline of the second page of Income Masters Institute makes the claim:
"If You Can Spare 60 Minutes A Day, We Can Offer You A Certified, Proven And Guaranteed Home Job To Make $379/Day From Home!"
Again, it's the same claim used by hundreds – maybe even thousands – of work from home scams.
Scam Flag #5) Bogus Income Projection Table
IncomeMastersInstitute displays a link-posting table to make you think that you'll be paid for every link you post.  The problem is tables like these aren't based in any sort of reality. You see, the only way you get paid in a program like this is if someone finds your link, clicks on your link, then takes an action such as buying product, filling out a form (such as filling out a detailed insurance quote form that will allow an insurance company to follow up with them).
Those same type of income projection tables are used for envelope stuffing scams, email processing scams, home mailing scams, ad-posting scams, etc. I made the following video to show you why they are complete nonsense:
Scam Flag #6) Bogus Karl Goodard Story
The very same Karl Goodard Story has been used across numerous questionable websites. The only difference is the fake name of the person the story is about. I've made a small sampling of that in this video for another site just like Income Masters Institute:

Scam Flag #8) Jane Simmons Is A Stock Photo
In case you hadn't noticed, you should realize that Jane Simmons is a made up person using a stock photo.  You can see the disclaimer way at the bottom.
Scam Flag #9) Testimonials For Income Masters Income Institute Are Stock Photos
Again, the disclaimers are way at the bottom.
If You're Struggling to Make Money Online Click Here to Get Answers to All of Your Questions About Making Money Online.