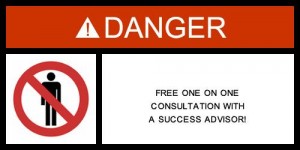 For years, I've been warning people about sales pages offering "Free One On One Consultations" as a "Bonus".  More often than not, these "free" consultations are used to try to hard-sell you expensive products and services that either you don't need or at worst are completely worthless.
Commonly used terms for these "free" consultations are:
"Free Consultation" with a "wealth expert"
"Free one-on-one consultation with a wealth development advisor
"Free one-on-one consultation with a personal advisor"
"Free one-on-one consultation with a success advisor"
"Free one-on-one phone consultation with a Search Engine Agent Advisor"
"Free Consultation With A Search Engine Agent Success Advisor"
"FREE one-on-one consultation with a Startup Specialist"
"Free 1 on 1 Training Consultation"
"Free One-on-One Strategy Consultation"
The Problem With Warnings
The problem with warnings is…they typically have no emotional impact. That makes them hard to remember…And of course most people think, "it could never happen to me." But even if these scammers don't get to you, think about the people you know…your grandma, your sister, your brother, your parents, your friends.
To really see the potential financial consequences for yourself or the people you love, I STRONGLY urge you go listen to a recently posted disturbing recording of a telemarketer trying to squeeze thousands of dollars out of a 56 year old woman working as a secretary at a salary of $24,000/year.

Warning: Disturbing Scam-Ridden Content ahead
The audio content is disturbing, sad, and alarming. Many people have said they couldn't listen past the first few minutes. However, I hope you will try your best to listen to as much of it as possible.
Why? Because this type of thing is going on at a massive scale, and many of the people behind the operations have been quoted as "experts" on mainstream media channels. In fact, the audio you're about to hear comes from the telemarketing room of a person who has been deemed an expert on both CNN and Fox News.
Warning: The site you're about to go to is rated R
Here is the link to the audio: Scamming 2 Debbies
This is an ENORMOUS problem, so you may want to send a link to that page to your friends and loved ones as well.
If You're Struggling To Make Money Online - Click Here To Watch This Free Video And FINALLY Get Answers To All Of Your Questions About Making Money Online