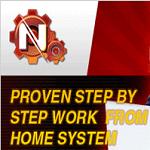 Note: Niche Blitzkrieg has been updated for 2013!
This Niche Blitzkrieg review includes the most important information you need to know about this home business system For this Niche Blitzkrieg review I've asked Michael to to do a video walk through of the inside area of Niche Blitzkrieg, one of the best products for learning how to build simple websites that generate multiple streams of income. Then I've followed the video walkthrough with additional information that should help you decide if this system could be right for you.
The system has easily received the most amount of positive feedback of any program I've recommended, including feedback from people who have considered themselves "computer dummies".
By the way, this is what REAL online money making training looks like:
If you're ready to experience REAL training on how to make money online then Click Here to start your trial today (includes special pricing for WorkAtHomeTruth visitors ONLY)
Start up cost: $4.95 trial – then after 7 days a ONE-TIME fee of $42.05 (this is special pricing for WorkAtHomeTruth only). If you cancel within the 7 day trial you pay nothing more (Michael has made it very easy to cancel your trial if it's not right for you).
Additional money required: $10.00/month or less
Is it a repeatable and scalable system: Yes
Is it Network Marketing/MLM?: No
Countries where opportunity is available: WorldWide
Previous business or internet marketing knowledge required: None
Helpful skills to have: Basic writing skills. Ability to follow instructions.
Training quality: Outstanding
Can be done completely from home: Yes
Can be done completely online: Yes
Telephone or face-to-face contact required: No
Support Included: Yes, there is a forum for each step of the system where you can ask questions. Michael answers the questions once a day
Support Quality: Outstanding
Recommended: Yes. Highly
Refund process: 60 Day No Questions Asked 100% Money-Back Guarantee
Reliability of the refund process: Very Reliable.
Click here to visit Michael Brown's Niche Blitzkrieg system – (includes special pricing for WorkAtHomeTruth visitors ONLY)
If You're Struggling to Make Money Online Click Here to Get Answers to All of Your Questions About Making Money Online.