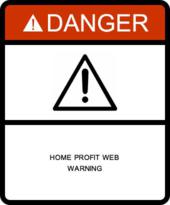 12/4/2011 Update on Home Profit Web:
Home Profit Web Warning: I STRONGLY recommend you AVOID Home Profit Web at all costs!
Here's why:
I just noticed that Home Profit Web is using both Panama & Switzerland in their operations. They have servers in both Switzerland and Panama. They have registered their domains via Panama – both well known locations for Asset Protection. Obviously, this can make it very hard for people to get refunds. It can also make it much harder for the Feds to seize their assets should they be shut down by law enforcement.
Here's the server location for Home Profit Web:
Here's the server location for one of their other websites – Home Cash Max:
Here's the Domain Registration Information For Home Profit Web:
Registrant:
  Netflow Interactive
  Netflow    ([email protected])
  50th and 58th Street Torre Global Bank
  Panama
  Panama,0832-02231
  PA
  Tel. +507.3403701
  Fax. +507.3403702
Home Profit Web…Original Warning Signs:
Home Profit Web Red Flag #1)
Home Profit Web declares "In The Next 90 Seconds – Gain Access To A Work-At-Home Job That Can Earn You Up To $87 An Hour". This is a totally arbitrary, fabricated figure since the sales and profits develop from commission fees and they've got little idea which products and solutions you will end up selling or just those products' commission levels.
Home Profit Web Red Flag #2)
Home Profit Web Utilises the sentence "As Seen On" which generally is totally meaningless mainly because that doesn't ensure that declaration has anything related to Home Profit Web . It happens to be taking advantage of the following images:
Fox News
CW
abc
Fox Business
MSBNC
USAToday
Home Profit Web Red Flag #3)
Home Profit Web is applying a video clip right from that's simply just about "work from home" in general and not actually about homeprofitweb.com.
Home Profit Web Red Flag #4)
The top portion of homeprofitweb.com states that the creator's name is "Michael Harris". The photo of Michael Harris is actually a photoshopped photo from a German Menswear company. Click HERE to see the ORIGINAL photo.
Home Profit Web Red Flag #5)
Claim that "If You Can Spare 60 Minutes A Day, We Can Offer You A Certified, Proven And Guaranteed Home Job To Make $379/Day From Home!" What is that determined by?
Home Profit Web Red Flag #6)
The below seals on Home Profit Web aren't clickable:
TrustGuard
TRUSTe Certified Security
VeriSign Secured
McAfee Secure
Non-Clickable security seals are useless.
Home Profit Web Red Flag #7)
Home Profit Web claims:
"You'll get a free one-on-one phone consultation with a Search Engine Agent Advisor to discuss your individual goals and map out and ensure your quick path to financial success."
Many times this form of free of charge "Assistance" will be used as a ploy to be able to get you to communicate to a sales representative that makes an attempt to pressure you straight to spending cash on more expensive options you won't need or perhaps even are of suspect value.
If you are thinking of ordering Home Profit Web, these are things I really would suggest you think about when you are trying to make a decision in regards to this product.
If You're Struggling to Make Money Online Click Here to Get Answers to All of Your Questions About Making Money Online.