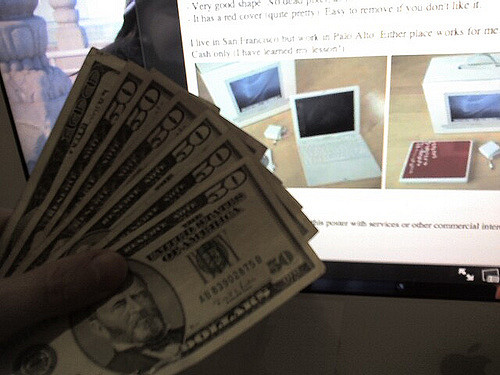 credit: Global X
Whilst looking for jobs online can often be rewarding, when it occasionally leads to a great job, there are many common scams out there targeting online users around the world for our job-hunting. The popular and highly useful community site, Craigslist, is unfortunately a common playground for scammers looking to exploit the needy. But how can you tell if a job advertisement is a scam, and how can you stay safe from these scams?
The Tutor Scam
This scams involves advertisements looking for tutors. Usually in these scams it will involve a father from abroad looking to find a tutor for their child who is living abroad. They'll usually state that you've been accepted as a tutor (without any background checks or Education checks) and they'll inform you that they'll be paying you in advance. The scams involves them then sending you a cheque for both yourself and a Nanny or Guardian living in your country too. They'll ask you "for your honesty" to deduct your own pay and send the rest on to the Nanny or Guardian. You do get a check, which you deposit, you send someone else money from that check, and you wait. The original check bounces, and you never hear from the family again.
Information Scamming
Your personal information is valuable and often, scammers will advertise for jobs that don't exist – so that you send them your CV and they can sell your details onto a third party. There's no sure-fire way to avoid this, but you can look out for things such as lack of effort in the writing and other signs such as no company name or branding. If you can't find the company name, or if you can't find a company logo – then the advertisement may not be legitimate. Also beware of "high profile" companies that use Gmail or Hotmail or email addresses – looking out for an official company address is always best.
Paid application
Some job advertisements will prey on the naïve and innocent out there, by charging them a small fee to apply for the job. You'll usually get a short email after replying, referring you over to their "official application page" on which you'll need to pay a small fee to have it submitted. This is always a scam and you should never enter any payment details into websites like this. These kinds of jobs tend to target people who are desperate for work – so just be careful. No matter how good a job sounds – you should never have to pay to apply.
The Modeling Profession
Want to become a model? Well many scammers on Craigslist know how desperate people in the modelling (and acting) profession are to find regular work, so they take advantage of this. Often, the scams in this area will ask you to pay for a trial session or a "portfolio". You'll pay a fee in advance, be given a booking slot – and then never hear from them again.
The Content Scam
This scam is targeted towards freelance writers and graduates who make some spare cash by writing. Many companies in the SEO industry hire freelance writers to help them with their online marketing efforts. You will get some companies though who will request "samples" of your work by email, and then once sent – you'll not hear from them again – but they'll use your content and your work. To prevent yourself from falling for this one, check out the reputation of the company before sending anything over for consideration.
If You're Struggling to Make Money Online Click Here to Get Answers to All of Your Questions About Making Money Online.